The mighty vetiver, a staple ingredient in most masculine fragrances
Vetiver oil, also known as khus oil, is believed to be very grounding, calming and stabilizing, and provides a range of essential oil uses and benefits. Its calming and soothing properties are said to dispel anger, hysteria and irritability, and reduce neurotic behavior.
What Is Vetiver Oil?
Chrysopogon zizanioides, commonly known as vetiver, is a perennial grass that belongs to the Poaceae family, which is native to India. Western and Northern India know this plant as khus.
Vetiver (Vetiveria zizanioides), derived from a Tamil word that means "hatcheted up," can grow up to 1.5 meters (4.9 feet). It has tall stems and long, thin and rigid leaves. Its flowers are brownish-purple. Vetiver hails from India but is widely cultivated in the world's tropical regions.
Vetiver essential oil is derived through the steam distillation of the plant's roots. It has a strong initial aroma and is described as woody, smokey, earthy, herbaceous and spicy. While not widely known, it dates back centuries and, in the 12th century, even became a taxable item in India.
Perhaps the most valued quality of vetiver oil is that it is deeply grounding and often used for promoting sleep. It is said to also be equally helpful for restlessness.
Uses of Vetiver Oil
Almost the whole vetiver plant is used for various applications. The roots have been particularly used since ancient times.
Vetiver essential oil is extensively utilized in perfumery, including the creation of perfumes for the body, room fresheners and coolers, as well as soaps, cosmetics, and oils. It is also a flavoring agent in beverages, sorbets and other foodstuffs. Its aromatic effect on the mind is grounding, calming and balancing, while its other notable actions are antiseptic, antispasmodic, immune-stimulating, warming and sedative to the nervous system, and stimulating to the circulatory system, to name a few.6
Vetiver oil's calming and soothing properties are said to dispel anger, hysteria and irritability, and reduce neurotic behavior. This in turn reduces stress and tension. These revitalizing qualities make it helpful with physical and mental exhaustion, and for addressing issues ranging from general aches and pains to insomnia and anxious feelings.
Composition of Vetiver Oil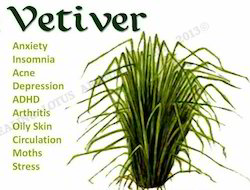 According to a paper by U.C. Lavania from India, the chemical composition of vetiver oil is extremely complex. It mainly comprises sesquiterpenes and sesquiterpene derivatives, of which vetiverols, their carbonyl compounds and esters, serve as the main constituents. Their relative abundance normally dictates the quality of the oil.
Three carbonyl compounds are deemed the primary odor-influencing components of this essential oil, which is used extensively to blend oriental-type perfumes and floral compounds, along with other cosmetic and aromatherapy applications. Vetiver oil is also a main ingredient in 36 percent of all Western-quality perfumes and 20 percent of all men's fragrances, says Lavania. The author adds that the main fibrous smooth roots are important for oil quality.