Adding to its "Gems Road" collection, Bulgari introduces Le Gemme Orientali — three complementary perfumes that interpret the natural scents of the Earth to new heights.
Inspired by the most renowned gemstones of the Arabian Peninsula, the story unfolds with Zahira, or Imperial Topaz, known for its sun-golden glow, Selima, or Carnelian, a rich and serene red and Lazulia, or Lapis Lazuli, an intense night-blue that echoes the strength of royalty and spiritual depth.
Givaudan Master Perfumer Daniela Andrier worked to interpret the story of the road from the Orient to the Mediterranean with its precious gemstones, spices, scents and aromas. This land was the birthplace of perfumery and has nurtured the olfactory experimentation that has become the art of high-perfumery today.
As with the others in the Le Gemme Collection, the bottle is in the arabesque shape with a sculpted cap in the gemstone's deep colors that is representative of the intricate mosaics of the Bulgari Intarsio jewelry collection.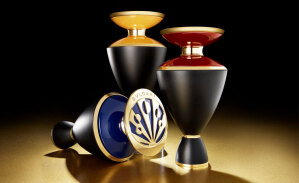 Notes
Zahira: The heat of cinnamon. ylang ylang and luminous Laotian benzoin.
Selima: Velvety candied dates, pimento heat, the intensity of Bulgarian rose essence and the sensual opacity of cedar wood.
Lazulia: Delicate jasmine petals, royal oud wood, incense and amber.